Great Job!
Your research document is successfully submitted.
Please check your Inbox for the acknowledgment e-mail. In case you couldn't find it, do check the Spam/Junk folder. Do contact us if you still couldn't find it.
 What is Next?
(STEPS TO FOLLOW)
After this successful submission there are 5 steps remaining in the publication process. During the further process, you will receive a notification at every step via email and SMS.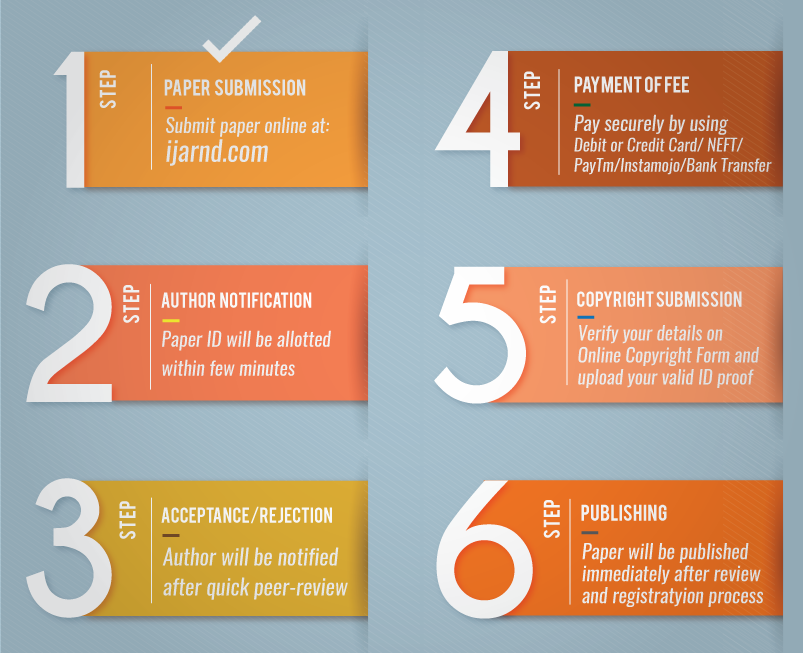 NOTE:
If you have submitted your paper in our journal you cannot submit your paper elsewhere.
If you want to publish your paper quickly please contact us.
When will I receive the acknowledgment for my submission?
If you have submitted the paper online then you will receive acknowledgement within few minutes of submission via email and SMS. It is suggested that you submit your paper online as it is a faster method and it directly input your paper in our database for further processing. In case of submission via email, the acknowledgement may take up to 2 working days.
How can i track the status of my submitted paper?
You can track your paper through track status page by using the Unique Tracking Key provided to you in the email after your paper is submitted. This tracking key gives you the precise status of your paper with us.
You can also guess your tracking key by using this method: Your Unique Tracking Key is the combination of your Paper ID and first three characters of your name. Example: For an author with name: Ankit and Paper ID: V3I1-1150, secret key will be V3I1-1150-ANK. Please note that the key is not case-sensitive and special characters like dot (.) or comma (,) are not considered as a valid character. So, if your name is: Dr. Sarvan Thete, then your unique tracking code will be: V3I1-1150-DRS
How long does it take to publish the paper?
Average time to publish a paper is 2 days. However, the complexity of the paper may affect the publishing time. Publishing can be expedited if the author has a deadline to meet. So, it is suggested that author should ask for Fast-Track publication if facing any deadline. (Note: There is no extra fee for fast-Track Publication)
What is the Copyright Form and how to submit it?
Copyright Form is a proof that you are the rightful owner of the paper and you are giving the rights of publishing the paper to IJARND. The copyright is needed once your paper is approved after peer-review. Your online copyright form is pre-generated with us and you only need to verify those details along with sending us any government approved ID proof.
List of IDs that are acceptable:
AADHAR Card
Driving License
Passport
College issued ID Card
Employer issued ID Card
WHAT WILL YOU RECEIVE?
Once your paper is published, you and all co-authors will receive your paper in PDF format (with online link), digital certificates and the e-magazine containing all the papers published in that issue.