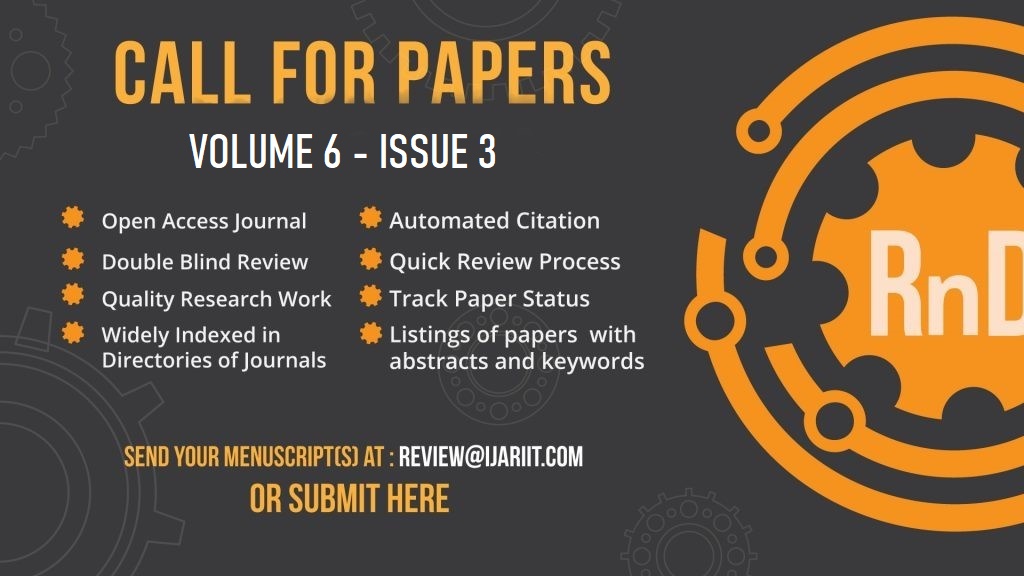 Call For Papers
We are pleased to inform you that our upcoming issue for the month of April, 2021 is announced and the last date for submission is 17th April, 2021. 
We would like to invite you to contribute your research work in the form research papers, review papers, dissertation, technical notes and other formats for publication in IJARnD. The journal covers
all areas of education
including but not limited to Engineering Sciences, Medical and Pharmaceutical  Sciences, Clothing and Fashion, Grammar and Literature, Language and Speeches, Legal and Social, Media and Mass Communication, Management Studies, Travel and Tourism and several others.
If your article somehow adds to the current information about the topic and is formatted with correct references
– then it is very likely that your paper will be accepted and published.
We publish research articles, review articles, and technical notes which are reviewed within one week of submission. Once the peer-review process is completed, copyright transfer and maintenance fee is received, the accepted papers are published in the ongoing edition immediately. The articles should be in the proper format as in the sample format.
Authors are invited to submit their paper online or through e-mail at [email protected]. Submissions must be original and should not have been submitted or published previously anywhere else.
Important Dates: Volume 6, Issue 4
| | |
| --- | --- |
| Submission Deadlines | 17th April, 2021 |
| Online Publishing | Immediate (after review) |
| Author Notification | 2 days of submission |
| Final Issue | 30th April, 2021 |
| E-Magazine | 5th May, 2021 |
With Warm Regards,
Editor-in-chief
Email: [email protected]